by David F. Phillips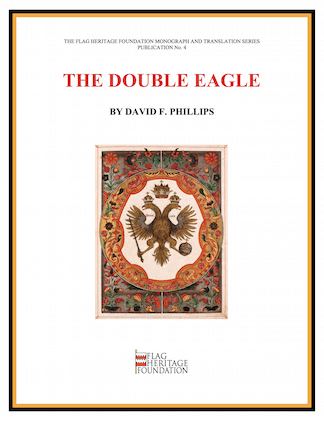 An eagle with two heads was one of the most famous political symbols in Europe for hundreds of years. It was the emblem of the Holy Roman Empire, and later of the Austrian and Russian Empires, and is still in use in Balkan countries and in the Greek Orthodox Church. The importance of the double eagle in so many places, as a royal and later as a national symbol as well as a focus of nationalism and loyalty, has kept this strange image prominent for centuries in the imagination, and in the collective unconscious, of people in many nations, and has figured in such incidents of sovereignty as coins, seals, flags, regalia and military uniforms, but also in civil arts and handicrafts in many media.
The Double Eagle, an original study by David F. Phillips, is the first book in English to examine this mysterious and sometimes frightening symbol in depth and detail, and traces its history from its Near Eastern origins to its use today. The book has 160 pages, measures 8½ x 11 inches, weighs just over a pound, and includes 275 illustrations (including 47 flags), color covers, and an original map. The book may be seen and/or downloaded here.  It may also be ordered from Amazon at a highly subsidized price.
David F. Phillips was a heraldic scholar in San Francisco. Trained as a lawyer and a librarian, he studied in this field for more than 60 years. He was the author of Emblems of the Indian States (2011) and many articles and papers on heraldic topics. His obituary can be found here.