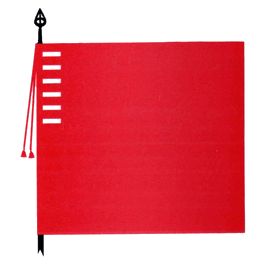 The Forster Flag is the most valuable and historically significant item in the Foundation's collection.
It is said to be the oldest known American flag (that is, a flag intentionally designed and used to symbolize the country), and the oldest to use 13 red and white stripes for this purpose. It was carried by the Minutemen when they were called out on April 19, 1775, for the Battles of Lexington and Concord.
Of the 30 authentic colors still surviving that were carried by American troops during the Revolutionary War, the Forster Flag is the only one not in a public museum or institution.  It remained in the family of Samuel Forster for 200 years, from 1775 until it was acquired by the Foundation in 1975.
The image above is a reconstruction.  For a photograph of the actual flag, please click here.
For more on the Forster Flag, examining in detail its history, condition, provenance and significance, please see the article on the subject by Dr. Whitney Smith, the world's foremost authority on flags.