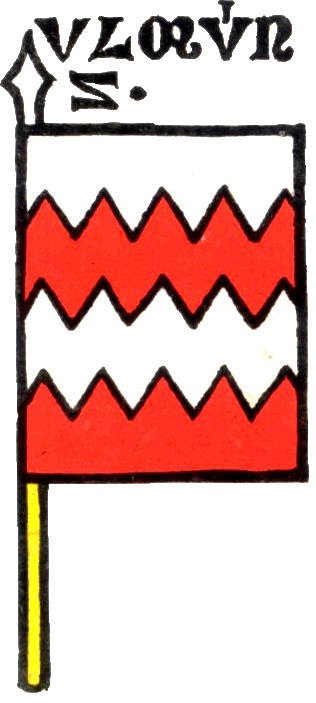 The Foundation's logo is taken from the banner shown on the Wappenrolle von Zürich  (Zürich Arms Roll) for the Bishop of Olmütz in Moravia.  The Wappenrolle von Zürich, dating from about 1300, is one of the oldest and most important heraldic manuscripts in Europe (and therefore in the world).  It is painted on a long series of parchment pages, joined at the sides, and shows the arms of nobles in the part of German-speaking central Europe centering on Switzerland.  It is now in the Swiss National Museum in Zürich.
While most of the images on the Wappenrolle von Zürich are of shields, a few for bishops and abbots are of banners, because of the convention that churchmen could not bear arms.  The banner for the Bishop of Olmütz was chosen for the Foundation logo because its antiquity and its simple and vigorous geometric pattern epitomized flags in their visual and historical aspects.  The Diocese of Olmütz (now Olomouc in the Czech Republic) no longer uses these arms.
The logo image was taken from a facsimile of the Wappenrolle published in 1860 by the Antiquarischen Gesellschaft in Zürich (Zürich Antiquarian Society). In this facsimile the banners are arrayed on a normally-shaped page.
To see expandable images of other sections of the original Wappenrolle von Zurich, go here and enter Wappenrolle in the search box.