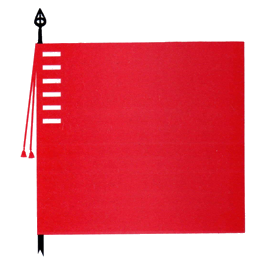 Until April 2014, the Forster Flag was the most valuable and historically significant item in the Foundation's collection.
It is said to be the oldest known American flag (that is, a flag intentionally designed and used to symbolize the country), and the oldest to use 13 red and white stripes for this purpose. It was carried by the Minutemen when they were called out on April 19, 1775, for the Battles of Lexington and Concord.
Of the 30 authentic colors still surviving that were carried by American troops during the Revolutionary War, the Forster Flag is the only one not in a public museum or institution.  It remained in the family of Samuel Forster for 200 years, from 1775 until it was acquired by the Foundation in 1975.
The image above is a reconstruction.  For a photograph of the actual flag, please click here.
The Flag Heritage Foundation sold the Forster Flag in April 2014, and is applying the proceeds of the sale to fund the Flag Heritage Fund at the University of Texas. This gift will allow the Flag Research Center's vast collection of books, pamphlets, files, papers and documentation about flags, their history and meaning to find a permanent home at the Dolph Briscoe Center for American History at the University's flagship campus in Austin. This collection, assembled over many decades by Dr. Whitney Smith, the foremost scholar in the field, is the greatest of its kind in the world, and we hope and expect that it will form the nucleus of a great public center for study and scholarship.
Information about the development of the Whitney Smith Flag Research Center Library at the University of Texas, and about the Flag Heritage Fund, will be posted here as circumstances warrant.
More information on the Forster Flag, including details of its history, condition, provenance and significance, is provided in this article.