This vast collection of flags was originally created in the early 20th century for John Wanamaker's famous Philadelphia department store. Wanamaker had been in the retail business in Philadelphia since 1861; in 1876 he opened what he called a "Grand Depot," a store on a scale unprecedented in the United States, inside a disused railroad station. In 1911 the Grand Depot was replaced by an 11-story building at 1300 Market Street, designed by Daniel Burnham and containing almost two million square feet of selling space.
Part of Wanamaker's business plan was to make his store a "destination." To that end he had it adorned with elaborate decorations, installed a magnificent organ, and created a five-story "Grand Court" as a central showpiece. By around 1900 Wanamaker's son Rodman was responsible for most of the decoration of the store. Rodman Wanamaker was an aesthete who had lived for years in Paris before taking an important role in his father's business.
While the senior Wanamaker focused his prodigious energies on making sure that his ever-expanding business empire ran like a well-oiled machine, the younger Wanamaker was committed to bringing art and beauty into the stores. His influence extended not just to finest merchandise, including pioneering imports of French fashions, but also in the richness of Store architecture, decor and music. This merchandising legacy … became the hallmark of the Wanamaker empire and molded the Store into a distinctly Philadelphia institution of national reputation. 1
In his "Obituary Log" on Rodman Wanamaker, Herbert Adams Gibbons writes that
His passion was the cult of the beautiful. He made his stores artistic centers. In his homes he surrounded himself with beautiful furniture and priceless tapestries. He loved to buy jewelry. He spent much of his time in the midst of books. He collected rare musical instruments, and having brought them together, was delighted to have them used, and give the public the pleasure of hearing concerts on the instruments of the masters.

* * * He loved music and pictures and flags and uniforms, and this love he instilled into and shared at all times with those who worked for him. In both his great stores he shared this love also as far as it was possible to do so with the general public. 2
As part of his decoration scheme for Wanamaker's, beginning in 1903 Rodman Wanamaker commissioned reproductions of hundreds of historic flags to hang in the store. He included among his choices military colors used by American and French regiments, English armorial banners based on those of the Knights of the Garter, the flags of the world in the 14th century as shown in a manuscript by an anonymous Spanish Franciscan, and flags in many other categories. 3
Rodman Wanamaker commissioned studios in London (Charles E. Dunnage), Paris (Jacques Lambert), and Philadelphia (Grace Murphy; Zafero Studios) to create his flags. Although they were reproductions, they were first-class reproductions according to 19th century taste. They were made of silk, painted in oil paints and sometimes finished in gold leaf. Some were as large as nine feet square, and many had spearhead finials, tassels and cravats.4
Rodman Wanamaker took over the business when his father died in 1922, but he himself died only a few years later, in 1928. After his death the flags were taken down and put into storage, where they remained neglected for decades. The Flag Heritage Foundation acquired most of the flags from the Wanamaker Company in 1988.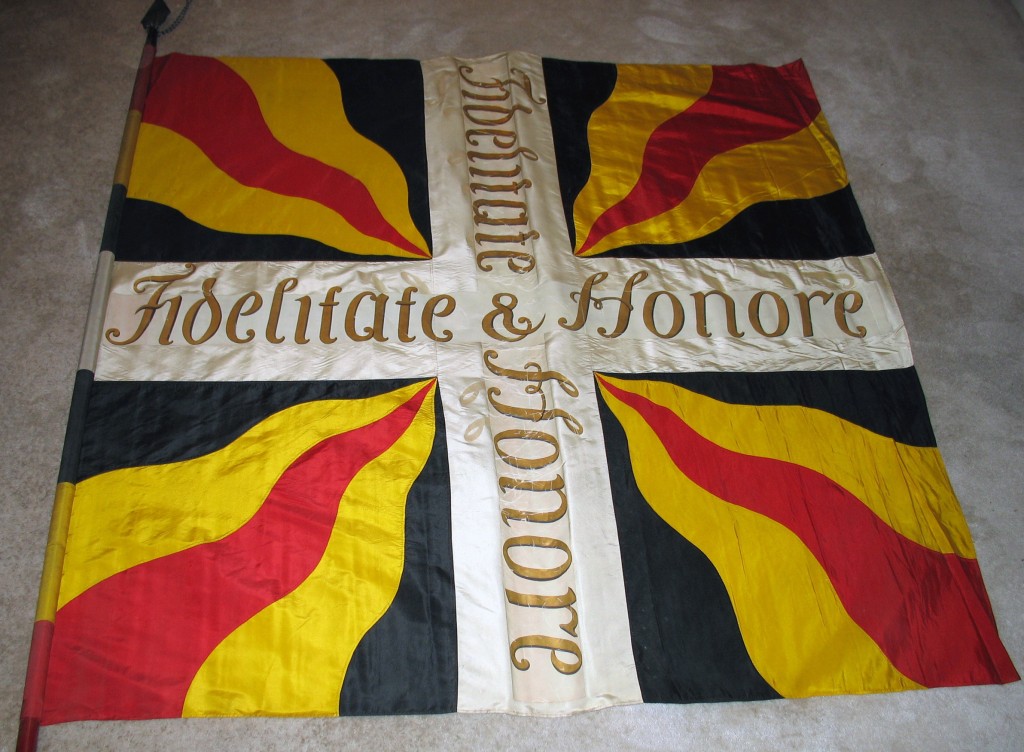 The flag shown here is a Wanamaker reproduction of the regulation colour (drapeau d'ordonnance) of the Régiment de Diesbach, a Swiss infantry regiment in the service of the King of France.
For a selection of flags from the Wanamaker Collection, please look here.
Despite their beauty and interest, the Foundation has not found it possible to display the Wanamaker flags or put them to meaningful use beyond mere preservation. Accordingly, in December 2015 the Board of Trustees decided to give the flags to suitable non-profit institutions that could put them to uses consistent with the Foundation's charter purposes. The first four donations in the Wanamaker Collection Deaccession Program are described here.